1400 SHG / 1600 SIH / 1800 SLH Headrig
1600 SIH Headrig – Video
---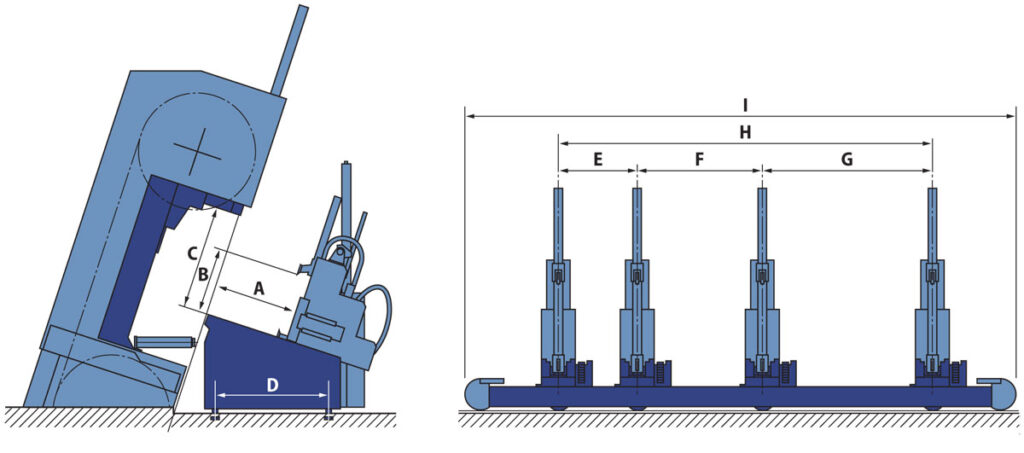 Overall dimensions
SHG / CEN
SIH / CFL
A
mm 830
mm 1130
B
mm 900
mm 1030
C
mm 900
mm

H

1400
mm

M

1100
D
mm 1120
mm 1540
E
mm 900
mm 950
F
mm 1400
mm 1500
G
mm 1900
mm 2050
H
mm 4200
mm 4500
I
mm 6000
mm 6620
H = High
M = Medium
---
Technical data
SHG / CEN
SIH / CFL
Flywheel diameter
mm 1400
mm 1600
Flywheel face
mm 190
mm 245
Blade dimensions
mm 206 x 1,47 / 1,65
mm 260 x 1,65 / 1,83
Min/Max blade length
mm 10540 / 11030
mm

H

12000 / 12380
mm

M

11380 / 11760
Headrig weight
kg 7200
kg 10000
Motor power for flywheel rotation
kW 75-90-110
kW 90-110-132
Max. log diameter
mm 830
mm 1100
Headblock speed
mm/s 500
mm/s 500
Weight of carriage
kg 9500
kg 12000
H = High
M = Medium
---
1400 SHG / 1600 SIH / 1800 SLH Tilted band saw headrig
18° degree tilted headrig with cast-iron frame and solid flywheels.
Blade guide, blade tension, blade guard and braking device powered by hydraulic cylinders.
Tilting of top flywheel powered by electrical motor.
---
CEN / CFL Tilted log carriage
This machine allows boards to be unloaded gently and always with the same side onto the unloading roller conveyor. Logs and large boards can be turned quickly and easily by using the easy hooks (installed on request).
Independent movement of headblocks using brushless motors.
Moving hooks projection in 4 positions through a double hydraulic cylinder.
Headblock slides with interchangeable wear components.
Positioning and work cycles can be programmed electronically, with possibility of optimization.
Fully hydraulic log turning device with independent arms, inclination up to 90° to make turning easier.
Kickers for last board, operated by hydraulic cylinders.
OPTIONS
Easy hooks.
Log lifts.
Independent hydraulic double-armed log turning devices.